About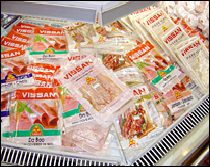 Promarks Vac Co., Ltd., was established in 1989, specializing in vacuum packaging machine manufacturing. Along with technological products designed in Taiwan that is distributed to the global market, we have gradually expanded our product line and have included the vacuum tumbler as well as meat processing equipment, etc. all utilized for food products, agricultural products, meat, seafood products, cheese, sausage, ham, electronic components etc., for moisture, rust and corrosion proof a virtual one stop shop.
Promarks specializes in equipment manufacturing and has been doing so for 30 years, we utilized German made Busch pumps, 304 stainless steel, and all spare parts assembled in Taiwan In order to guarantee safety for the end user. We use 3rd party certification as well as complying with ISO9001 standards. The complete series products are also certified by CE (02-SKM-CM-0121) in 2002.
In recent years we have added these countries to our distribution list to the likes of South East Asia, EU, Middle East, Japan, Africa, New Zealand, Australia, USA, Central and S. America. To shorten the lead time we set up a corporate distribution base in California known as ALPHA VAC SYSTEM INC that has successful marketing strategies, and experience being as the U.S. head office and as the number one worldwide distributor that Taiwan owns the Alpha Vac and Promarks brand.
Managing philosophy of Promarks
• Innovation Technology.
• High quality products and services.
• Customer Satisfaction.
At Promarks quality control never ends, our high quality manufacture procedure and after sales service is second to none as we promptly correspondent to our customers for their ever changing requirement needs as we're are able to deal with customer's demands efficiently by years of experience and new techniques.
In 2016 Promarks move to new facility which occupied 161,459 square foot, at the same time we built auto robotic welding and metal processing system allowing the workforce to expand production capacity needs for the industry as well as assure quick delivery and SOP quality consistency.
Promarks Vac's Strengths

Parts Stock
Mass pump and parts stock to ensure machines delivered on time.

R & D
We invest in R&D to constantly improve our machines and to meet clients needs.

CNC Machine
Digital CNC machine to get a precise measurement as well as enhance machine quality.

Easy Maintenance
Standardized the spec and manufacturing procedure to assure perfect performance and easy maintenance.

Mass Production
Mass production lower down costs and offer our clients best price.

Quality Control
We strictly in spec every single parts to reach the target of "zero defect" of machine qulity.

Export Worldwide
Promarks Vac machine are available at over 35 countries including USA, UK, Italy, Japan, Canada and many more.

Customer's Satisfaction
The excellent quality machine has been approved by our exist customers in food and non-food industries.

After Sales Service
After sales service is available in most part of the world.
Introduction by TV business channel
Introduction by TV business channel